Big Sister Tara and Little Sister Blair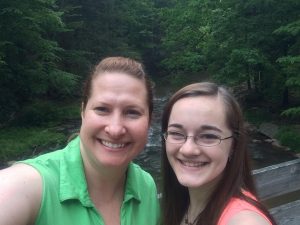 Big Sister Tara and Little Sister Blair have been matched for almost 8 years now.  Some of their favorite things to do together are going on hikes, Geocashing, & watching movies!  This Fall Tara and Blair have been spending a lot of time attending different festivals and corn mazes, such as the Scottish Festival and JB Tree Farm.  Over the years, Tara has helped Blair get involved with the Altoona Community Theater! She likes to take acting workshops in the summer and even got a part in the "Sparkle" musical!  Both Tara and Blair always support each other by attending each other's performances.  Being Tara's Little Sisters means the world to Blair and Tara is grateful everyday that she took the leap and signed up to become a Big Sister!

Little Sister Cassoundra and Big Sister Brenda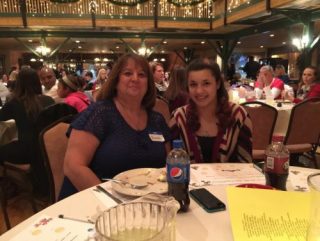 Little Sister Cassoundra and Big Sister Brenda have been matched for over 10 years! As a young child, Cassoundra began to slowly fade to the background as her older sister was going through a rough patch and required some extra support from their family. Cassoundra's parents knew that Cassoundra also needed a positive role model and some extra attention of her own, so they decided to enroll her into Big Brothers Big Sisters.
Not too soon after, Brenda decided to volunteer for Day of Caring—a community event where employees are sent to volunteer at different non-profits in Blair County.  Brenda was sent to volunteer at a Big Brothers Big Sisters picnic where she met Cassoundra for the first time.  After spending the whole day with Cassoundra, Brenda realized that she had a passion for mentoring.  That night, she went home and told her husband, "I would like to become a Big Sister. I did not realize how many kids need someone."  With the support of her husband, Brenda contacted Big Brothers Big Sisters and eventually became matched with Cassoundra—a match that's been going strong ever since! 
Throughout the years, Brenda and Cassoundra have done many activities together such as arts and crafts, baking, shopping trips, an over-night stay at the Pennsylvania Grand Canyon, and much more.  About three or four years into the match, Brenda's husband Terry decided that he also wanted to make a difference in Cassoundra's life.  After contacting Big Brothers Big Sisters, Terry and Brenda officially became a Match Couple for Cassoundra.  One of Terry and Cassoundra's favorite activities to do together is simply grabbing a cup of coffee at a local coffee shop and having a heart to heart.  Now that Cassoundra is preparing to go to college, Terry and Brenda keep in contact with her through social media and texting.  Even though they may not spend as much time together as they used to, Cassoundra knows that Terry and Brenda are always just a phone call away.
The impact that Terry and Brenda made on Cassoundra will be something that she carries with her for a lifetime.  They were there to provide Cassoundra with a listening ear, a friend and mentor when she had no one else to go to, and a role model she could look up to.  Cassoundra trusted them and felt comfortable confiding in them whenever she needed to.  As Cassoundra moves into adulthood and graduates from Big Brothers Big Sisters, she will forever remember the path of success that Terry and Brenda helped guide her through.  Brenda and Terry have gained a sense of love for giving back to the community in a LITTLE way that has a BIG impact.
Like Brenda and Terry, you can also make a difference in a Little's life today by making a generous donation to help provide each Little enrolled in Big Brothers Big Sisters with a bicycle.  This LITTLE act of kindness will have a BIG impact on our Littles when they receive their very own bike at a Curve baseball game.  Can you imagine their surprised faces? Help make this possible by donating today!